Apple will release iOS 17 RC (Release Candidate) this week, and if you intend to update to the stable release of iOS 17 next week, turn off the Beta Updates option right now or do not install iOS 17 RC until iOS 17 is released.
To turn off beta updates, please go to: Settings - General - Software Updates - Beta Updates, and select Off.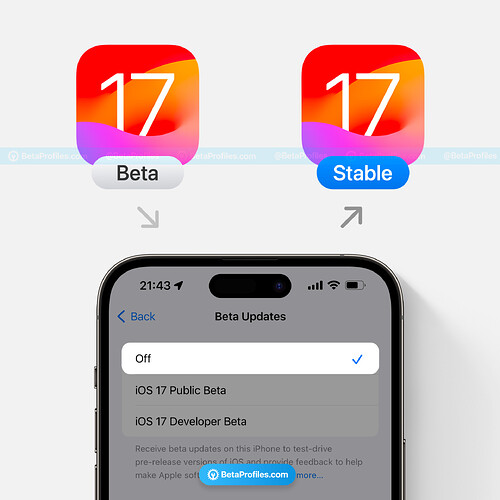 Why is that? Because the RC is typically the final build of a software in the developer beta stage. Usually, this is the last build before the official release, so it shares the same build number as the official release. When two updates have different names but the same build number, you won't be able to update via OTA (Over The Air).
If you want to continue receiving future iOS 17.1 beta, iOS 17.2 beta, etc., you don't need to do anything. This is just a reminder for those who want to exit the beta program to install the stable iOS 17 without needing iTunes or a computer.
If you've installed stable iOS 17 and change your mind later, you can always re-enable the "iOS 17.x Developer Beta" or "iOS 17.x Public Beta" option to continue receiving beta updates in the future.

Follow @BetaProfiles on X (formerly Twitter) to stay updated and not miss any information.